INTERIOR STYLE (MAG)
(Storm Windows placed on the inside of your existing window)
(MAG)NETIC SERIES
The Magnetic Series offer several benefits over old storm windows.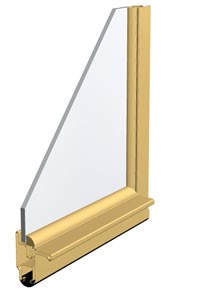 • Low profile frame (1" wide) around the storm window perimeter
• Frames made of strong aluminum extrusion with sleek "invisible" design
• 7 Standard paint finishes (white, black, beige, bronze, hunter green, barn red, cream) Mill finish also available.
• Many glazing options – up to 1/4" thick (1/8" DSB standard) Tempered, Laminated, Low E, Plexiglas, Lexan and many more
• Easy Installation
• Removes quickly and easily for cleaning and/or interchanging screen panels (optional).
Other features available:
• ANY Custom Color matched
• Heavy extruded screen panels for ventilation
• Glazing muntins – all special shapes including bowed
Model – MAG1
Model – MAG1
INTERIOR MAGNETIC STORM WINDOW
Designed for many different styles of existing windows. This is a full lite storm window – it simply closes like your
refrigerator door giving you a good tight seal.
Model_- MAG2
INTERIOR MAGNETIC STACKED STORM WINDOW
Designed primarily for oversized double hung windows making panels easier to manage. One magnetic panel stacked on top of another with a fixed center meeting rail aligned with prime window.